For the Best Dumpster Rental Alliance OH Has to Offer, Choose White Dumpster
When residents and business owners are in need of the best dumpster rental Alliance OH has to offer, they trust White Dumpster to help them get the job done right the first time. With years of experience and customer service that is second to none, our team is ready to assist in your next project. We are always available to answer any questions about roll-off dumpster rentals and will help you choose the right container to suit your needs so that you can complete your project with ease. If you need a trustworthy waste management company that will respect your time and deadlines, our professional and friendly staff is here for you. Book affordable hook-lift dumpsters online or over the phone to get started on your next project or job today.

White Dumpster is a locally owned and operated company, proudly serving the community of Alliance, Ohio, and the surrounding areas of Portage County. We are committed to providing our customers with the most reliable waste removal services. Our high-quality equipment and high-value service make us the highest recommended dumpster rental Alliance OH has to offer. For decades, we have been assisting our customers with their waste management needs, ranging from residential and construction projects to commercial or industrial projects. At White Dumpster, we take pride in our on-time deliveries and offer our services at prices that won't break your budget. No matter the size of your project, we are ready to take the load off your back and handle your waste disposal with care.

If you'd like to book the best dumpster rental Alliance OH residents and contractors trust, we offer two hassle-free rental options. You can use our online booking system to take a look at our available dumpsters, preview sizing specifications for our bins, and gather information about our rental times. Choose your delivery date, set up your delivery location, and pay in one easy and secure transaction. Need a dumpster delivered on the weekend? No problem! We are happy to offer dumpster rental in Alliance, OH with Saturday delivery. If you have any questions or would prefer to book your rental with our knowledgeable customer service team, it would be our pleasure to take your call at (330) 238-8519. Call or book online today!
Many Convenient Uses for a Dumpster Rental in Alliance OH
No matter the size of the project, our options for a convenient dumpster rental in Alliance OH is there to help you tackle any waste management concerns. Whether you're cleaning out your garage or managing a new housing development site, we're sure to have just the container you need. If you're a homeowner finding yourself crowded with years' worth of accumulated junk, our Alliance, OH dumpster rental selections could provide you with the breath of fresh air that you deserve. Our 10-yard dumpster is the perfect size to discreetly and efficiently dispose of any unwanted items that you no longer need or want. Simply set up your delivery date and location, and we'll bring the dumpster to you so that you can load it as you go, and we'll haul it away in no time! It's that easy! No more heavy trash bags that need to be hauled off to the landfill in multiple trips.

If you're a construction foreman in Alliance, OH, our 15-yard dumpster will allow you to remove two tons of construction site waste while also allowing you to keep your site clear of debris and your crew safe from unnecessary bulky hazards. Do you have a big project that's going to take several weeks? No problem! We offer rental extensions by the day, so you can take as long as you need without breaking the bank.

When using the selections from White Dumpster, you can rest easy knowing your waste is being properly and safely disposed of. We work closely with Kimble Canton Transfer Station to ensure all waste is responsibly dumped in compliance with city, county, and state regulations. With our experienced and professional team, booking a dumpster rental in Alliance, OH has never been so easy. Give us a call or check out our online booking tool so we can help you finish your next project as efficiently and stress-free as possible.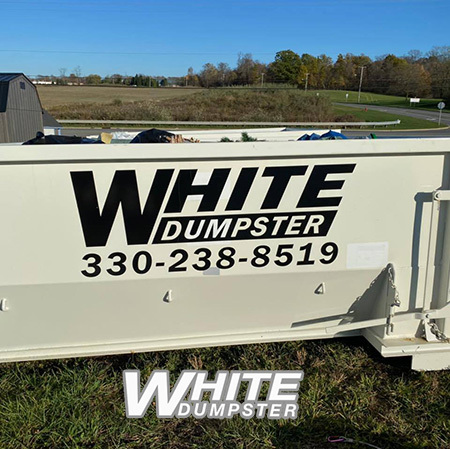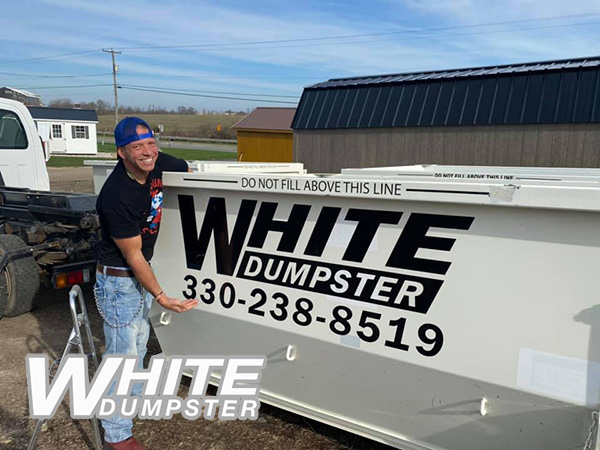 Reliable Alliance OH Residential Dumpster Rental
Homeowners love to use our Alliance, OH residential dumpster rental when making room for their new items. Whether just getting rid of junk, or doing a complete home makeover, our 10-yard dumpster is the perfect way to safely throw out refrigerators, furniture, mattresses, appliances, and even hot tubs! For bigger projects, such as a garage or attic cleanout, estate sales, hoarding situations, or foreclosure cleanouts, our 15-yard dumpster will handle anything you can throw in it. Our durable and dependable dumpsters are equipped to hold two tons of anything you need to haul away. Get in touch with our team or book online today!
Roll Off Dumpster Rental Alliance OH Homeowners Use for Yard Projects
Choose the best roll off dumpster rental Alliance, OH has to offer to complete your yard and outdoor projects today! Clean up your yard after a storm without worrying about a trash bag tearing or filling up your trash can by renting our 10-yard dumpster. Make room for your new grill and outdoor furniture by throwing out your old playhouses and treehouses. Redesign your landscape or renovate your old driveway easily without making a mess. Our dumpsters can hold over two tons of brush, debris, old outdoor appliances, lawn trimmings, tree stumps, and more! Get in touch with our team or book one of our reliable roll-off containers online today.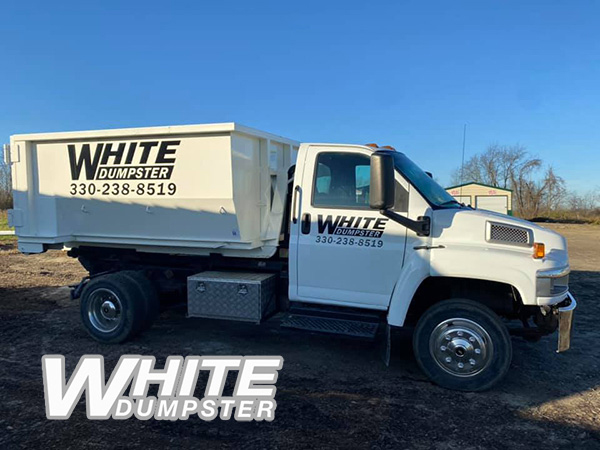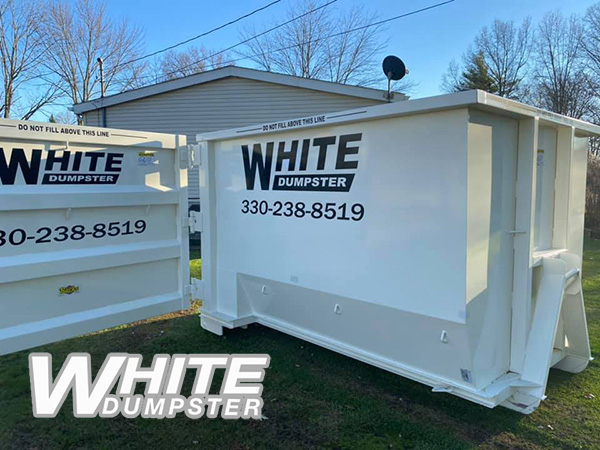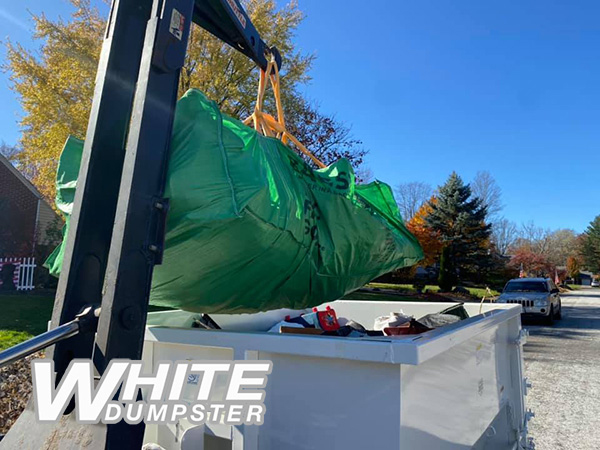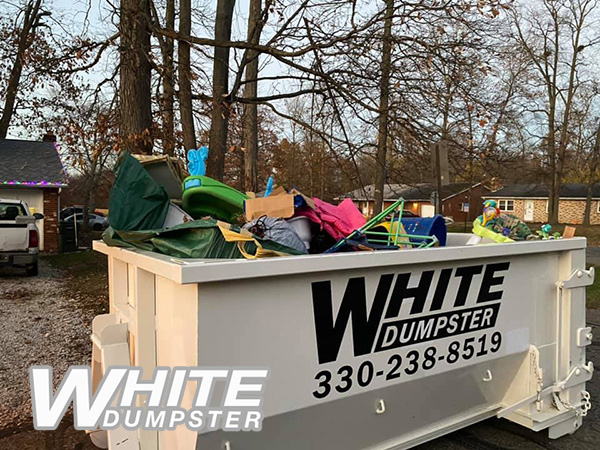 Durable Alliance OH Construction Dumpster Rental
For large commercial jobs, our Alliance OH construction dumpster rental is an absolute necessity. Contractors and project managers need safe and durable equipment they can rely on in order to keep their worksite safe and functional. That's why they choose our 15-yard dumpsters to use at their job sites. We can provide high-quality bins directly to your worksite, and you can trust that all of your discarded lumber, nails, asphalt, and tile will be properly disposed of. At White Dumpster, we respect your time and pride ourselves on providing the most reliable waste management services, so you can meet your deadlines with no problems! If you're a contractor or project manager in search of a dumpster rental near Alliance OH, trust our team to take care of all your waste management needs!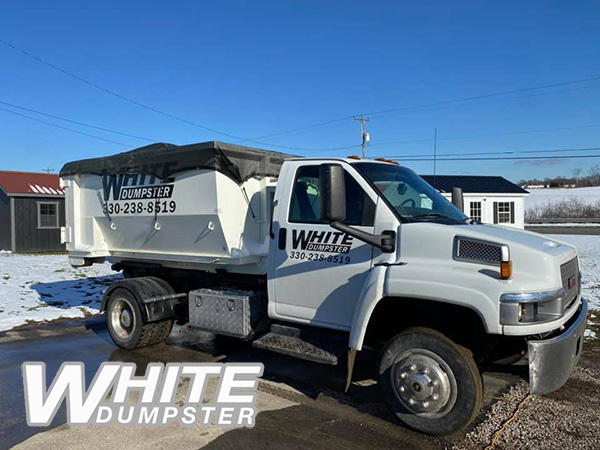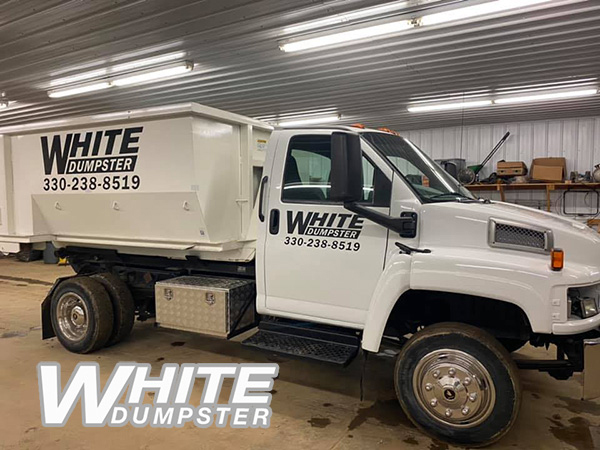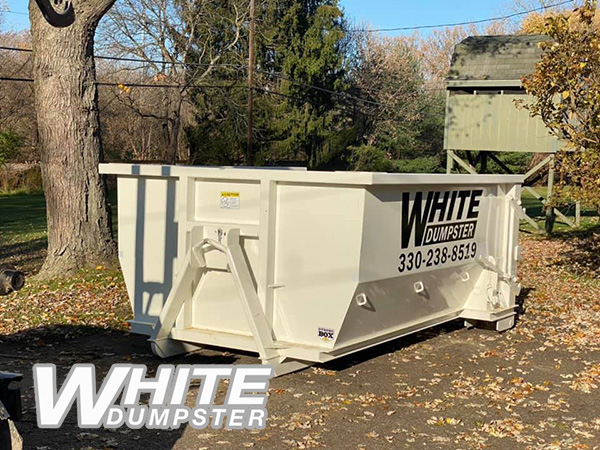 Commercial Alliance OH Garbage Dumpster for All Your Business Needs
For ongoing waste management needs, our Alliance, OH garbage dumpster rental company is the one you can count on. For business owners and commercial enterprises, it's especially important to keep any sites clean for customers, guests, and employees. We frequently work with retirement facilities, apartment complexes, hotels, retail stores, shopping malls, office buildings, and other commercial properties to provide ongoing reliable waste management solutions at prices that won't break your budget. Whether your warehouse needs to dispose of material waste or your business is undergoing demolition for expansion, we've got a high-quality dumpster to suit your needs! Call us at (330) 238 - 8519 or book online for a local dumpster rental Alliance OH can trust!
Why Choose Us for Commercial and Residential Dumpster Rental Alliance OH Can Trust
When in need of a reliable commercial or residential dumpster rental Alliance OH homeowners and businesses trust us with their waste management demands. We've been serving this wonderful community and surrounding areas for decades, putting in the effort to build and earn our reputation as the most dependable residential dumpster rental Alliance, OH can provide.

We pride ourselves on showcasing top-tier customer service skills, demonstrating unbeatable professionalism, and providing the highest quality budget dumpster rental Alliance OH has to offer. Our renowned, best-in-class manufacturers supply us with field-proven container designs for safe and effortless loading while using durable materials to create our sturdy, dependable containers. We take sanitization and safety as seriously as we do quality, so our containers are thoroughly cleaned and disinfected before and after each use.

When renting our dumpsters, you'll be provided with the container you need to complete your project, and a team of professionals that are ready to help answer any questions you may have. Call us today at (330) 238-8519 or book online to see why White Dumpster is the commercial and residential dumpster rental Alliance OH trusts with its waste management needs!

10 Yard Dumpster - up to 7 Days, 2 Tons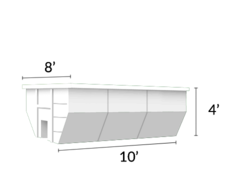 Additional Days
:
$10
Extra Weight
:
$75
15 Yard Dumpster - 7 Days, 2 Tons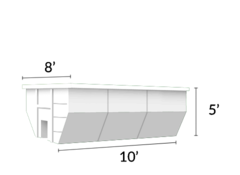 Additional Days
:
$10
Extra Weight
:
$75
20 Yard Dumpster - up to 7 Days, 2 Tons Additional Days
:
10
Extra Weight
:
75
We Take Just About Everything
Some examples of the junk we haul away include
Refrigerator Disposal

Garbage Removal

Mattress Disposal

Foreclosure Clean Outs
Construction Waste Removal

Yard Waste Removal

Trash Removal

Appliance Removal
Television Disposal & Recycling

Furniture Removal

E-Waste Disposal

Hot Tub Disposal
How to Book a Alliance OH Roll Off Dumpster Online
Booking a first-rate Alliance OH roll off dumpster rental has never been easier! We offer two ways to get you the dumpster you need at prices that can't be beaten. Simply give us a call at (330) 238-8519 and our exceptional customer service specialists will get you on your way to completing your project with our hassle-free, reliable waste management services, or rent one of our exceptional containers online in just a few easy steps.

If booking a Alliance OH roll off dumpster online, follow the steps below:

1) From any page of our website, click the blue "Book Now" button in the upper right corner or click the "Dumpsters" tab in the menu bar.

2) View our sizing selections and click "Book Now" next to the pricepoint once you find the perfect size for your project.

3) Review the dimensions, rental time frame included in the base price, waste disposal tonnage, and other details before clicking the "Add to Cart" button.

4) Select your service type (Homeowner or Contractor) then click the blue "Continue" button.

5) Choose your drop-off and pick-up date (or choose a one-day rental).

6) Input contact and billing information.

7) Input delivery drop-off information and digitally sign the contract before submitting payment using any major credit card.

You'll receive a confirmation email from our team with a digital copy of your receipt and signed contract. Someone from our staff will be in touch leading up to the date of your drop-off to confirm a delivery window that works for your schedule. We're one of the top-rated dumpster rental companies Alliance OH depends on because we offer flexible and streamlined scheduling options that are conducive to all schedules. Get in touch with us or book online today!
Versatile Alliance OH Roll Off Dumpster Rental Sizes and Prices
Book one of our flexible and convenient Alliance OH roll off dumpster rental options to complete a variety of residential or commercial projects. We're proud to offer sturdy and dependable containers at prices you can feel good about. Both of our sizings selections come with the rental leasing option of a single day, priced up to 7 days with the option to extend for $10 more per day. These leasing options are priced to include two tons of waste disposal. If you need more than the included two tons, no problem! We offer to haul any additional extra weight for a small fee of $75 per ton. These prices are the same for both dumpsters available, so there are no extra charges to worry about if you have a bigger project!

Our 10-yard dumpster boasts dimensions of 10'x8'x4'. This option is priced at $299, which includes the dumpster rental for up to 7 days, up to 2 tons of weight, delivery of the container directly to your worksite, and being hauled off for you to the landfill. Strong enough to hold anything you can throw in it, while also being the suitable size to place on a property lot, this container is perfect for home or small business waste management needs. This receptacle will allow you to clear out any furniture, appliances, trash, or yard waste while minimizing clutter and maintaining organization in your workspace.

For bigger projects, our 15-yard dumpster is available for only $50 more! The container dimensions are 10'x8'x5'. For $349, you will receive our largest container option delivered to you, a rental length of 7 days, and up to two tons of waste hauled off for you by our experienced professionals. This option is perfect for commercial and industrial projects of larger sizes and will provide you with a stress-free way to dispose of your construction or commercial waste, without sacrificing safety on your worksite.

If you're a homeowner, contractor, or business owner, booking our Alliance OH trash dumpster rental doesn't need to be a nerve-racking endeavor. Give us a call at (330) 238-8519 or book online to get started on your next project today!

FAQs About the Garbage Dumpster Alliance OH Residents and Contractors Utilize
When projects require the rental of a garbage dumpster Alliance OH residents and contractors trust, choose White Dumpster with your waste management needs. For some, the experience of renting a roll-off dumpster may be a new one. We've included the most commonly asked questions by new customers and listed them below just for you, to help alleviate any concern or curiosity you may have.

1) How much does it cost to rent a dumpster?

Our dumpster rental pricing varies by size, rental period, and the amount of tonnage being disposed of. Our 10-yard container, perfect for homeowners and small business owners, is priced beginning at $299. For larger projects, our 15-yard container is available for the base price of $349. These containers are perfect for demolition, construction, or foreclosure cleanouts. We understand many people are searching for a cheap dumpster rental Alliance OH can depend on, but along with cost-effectiveness, we prioritize on-time delivery, flexible scheduling options, and friendly customer support.

2) What can I load into the dumpster?

Just about anything you want to! Our top-tier containers are of the highest quality and have been built to endure without fail. You can include refrigerators, mattresses, tree trunks, appliances, furniture, and even hot tubs in our containers. You can throw away most household junk items, including clothing, pots, pans, chairs, bookcases, and more. Our dumpsters can hold heavy materials like brick, concrete, asphalt, drywall, old countertops, lumber, storm debris, and even roofing shingles. Our dumpsters have seen it all, from hard waste to construction waste. If you need to throw it away, we've got you covered!

However, due to local regulations or safety hazards, items such as batteries or propane tanks are not accepted. Prohibited items include flammable liquids and medical waste. If you've got an item you're not sure about, give us a call and our team of experts will be happy to answer your questions!

3) How do I book a roll-off container?

We offer two methods for booking a wheeled dumpster rental Alliance OH residents and business owners can trust: give us a call at (330) 238-8519 or use our convenient online scheduling system to book online, anytime and anywhere. For any questions or concerns about your booking, don't hesitate to get in touch with our team.

Delivering Cost-Effective Alliance OH Dumpster Rental to Surrounding Areas
We're proud to deliver our Alliance OH dumpster rental options to surrounding communities. Cities such as Canton, Beloit, North Alliance, Atwater, Hartville, Marlboro, Navarre, Sebring, Louisville, Massillon, Uniontown, Minerva, and Rootstown are included in our delivery zone. Our dumpsters are readily available to residences and businesses in Stark, Mahoning, and Portage counties. We are honored to support the community by regularly working with Alliance City School District, local businesses, neighborhoods, and individuals to create a waste-free and enjoyable environment.

For decades, we have been working closely with these communities and are delighted to provide reliable waste management services to a wide area near and surrounding our home. We regularly offer our services in Stark County and Mahoning County zip codes such as 44601.

Book a dependable Alliance OH dumpster rental with White Dumpster today. If your worksite is not included in our normal service area, no problem! Just give us a call at (330) 238-8519 and we will do everything we can to provide special accommodations suited to your needs. However, depending on the distance outside of our service area, extra fees may be accrued. To find out more, please reach out to our experts so we can help you get started on your next project!
Positive Reviews for the Best Dumpster Rental Alliance OH Customers Give 5-Stars!
For the best dumpster rental Alliance OH has to offer, choose the friendly and professional team at White Dumpster! As a locally owned and operated waste management provider that has been serving the community for decades, we are thrilled to be able to provide necessary and convenient disposal options for our residential and commercial clientele. From partnering with local school districts to aiding in the development of local tourism, White Dumpster has been proud to watch our home city grow, offering our help and services wherever needed. Still not sure we offer the best disposal services in town? Just ask our previous customers!